Directed By:
Bruce Campbell

Starring:
Bruce Campbell, Grace Thorsen and Ted Raimi

Rated R
Genre: Horror/Comedy
Format Used: Netflix DVD
Contains: Graphic Language, Graphic Violence, Sexual Content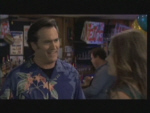 THE PLOT:
When a group of Heavy Metal punks wreck an ancient graveyard they awaken a Chinese Demon who wants revenge on the town and naturally when you're town is under siege by a demon who do you turn, Bruce Campbell, of course. But Bruce is not the wise cracking hero, he's a down on his luck actor who is in the middle of of a piece of trash monster flick called Cavealien 2.

Now up to his neck in trouble and totally oblivious of it, he charges in and right back out of the danger.
ZEDD'S OPINION:
The creature effects is impressive, the story is clever and Bruce has grand old time as a cartoon version of himself. So for me, this is a clever movie worth watching. I love all the in jokes of Bruce's other movies that is not so hidden in it. 7 STARS.

VOLTRON'S OPINION:
I too found the inside movie references to Bruce's other movies clever. But I actually found some serious character issues and the climax was a tad disappointing. So I give it 5 STARS.

ON THE POSITIVE SIDE (+ HITS):
+ CAST (The cast does a great job.)
+ CLEVER CONCEPT (An extremely clever concept.)
+ FUNNY (It was very funny.)
+ MONSTER (Guan Di was cool.)
ON THE NEGATIVE SIDE (- MISSES):
- CHARACTER ISSUES (There was some minor character issues.)
...AND FINALLY...
- ENDING (Without spoiling it, the ending was disappointed.)